Dzien dobry!

My name is Zdzislawa (speak: 'Jisslava'), and I am pleased to welcome you at our guest house Pella & Vacek.
Together with my son Bartosz ('Bartosh') I'm catering for the needs of our guests in Boruja Wies in the province of Greater Poland.
Our Guest House
Our cosy bedrooms sleep 2-3 guests each, single occupancy is available on request at a surcharge. We also have an apartment with a dedicated parent's bedroom and two full sized bunk beds in the living room.
Please take a look at the image gallery of our guest house including the apartment.
Recreation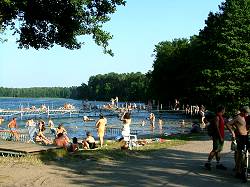 If you like hiking, taking a photo spree in old villages and towns, cycling (please bring your own and use our secured shed for overnight parking) and exploring nature and wildlife, you will find our region the right place to be.
The forest lake, situated less than a mile away in comfortable walking distance from the village, has grassy/sandy banks, several footbridges and a sandy shallow ground which is easy on your feet and safe for your children.
However, they won't stay clean for very long while frolicking in the mud. Kid's paradise!
In our district town Wolsztyn (about 10 miles away) you can visit Europe's last train station with steam engines running in regular service. Several steam trains leave the station each day for Poznan, the capital of Greater Poland. Take a day trip to this vibrant city and return to our peaceful countryside in the evening. A wonderful day out for the kids!
Please take a look at the image galleries of our region.
Our function hall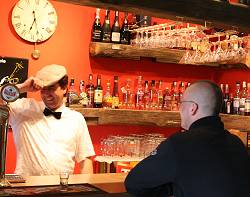 For groups from 15-25 guests the rent for our function hall (seats up to 150) is included. Invite your parents (or yourself) and combine the celebration of their golden wedding with a few days off in bucolic Poland. Sit and chat at the bar, enjoy long and placid hikes in our wonderful country between shimmering forest lakes, lush meadows and green fields.
Please take a look at the photo gallery of our function hall.

Get In Touch
For any enquiries please contact us at:
Pella & Vacek
Your friendly Guest House in Poland

Zdzislawa Sibilska
Boruja Wies 43
64232 Tuchorza
Woj. Wielkopolskie
Polska

Phone: 0048-515132214
Email: pella-vacek (at) gmx.de
You can reach us by train or car, or you can fly into Poznan. If you choose the train, we'll pick you up at the nearest station Chrosniza. If you come by car, you may leave it free of charge on our private parking lot (gate will be closed at nightfall).
Please take a look at the map for directions to Boruja Wies.